This is actually the last one. I wanted to do a few more but I couldn't actually think of a whole ten for some essential makeup things, foundation, mascara and blush were all also meant to make this miniseries. Oh well!
So here is my top 10 eyeshadows of the moment:
1. Sable - MAC. This has been a must in my makeup bag for soooo long. I got it years ago now but it's still one of my best ones!
2. Smog - Urban Decay. This is inside the New York pallette and is the most gorgeous brown smokey eye colour. It's just the perfect warmth and shade for my skin tone, the only problem is the amount of fallout you get. But I'm willing to work around that for the gorgeous colour.
3. Sketch - MAC. As my first velvet shadow from MAC, thumbs up! It literally feels like soft velvet brushing against your skin during application. This colour is pretty unusual but still it's fun and I love adding a bit of colour with this.
4. Midnight Cowboy - Urban Decay. This is again in the New York pallette, lovely inner 1/3 colour which gives the 'doll' eyes that I love so much. I wouldn't know how to describe this colour, it's not quite gold but it's not bronze or cream I honestly don't know....but whatever what it is, it's wonderful.
5. Mink - No7. Again, another inner third colour. This is very diverse. Works with smokey eyes, neutral eyes...everything! I love it a lot and it was a pure hit and miss find. I swatched two or three colours and hated them all and I was about to move onto the next stand when this caught my eye. It was a love at first sight product, and that's usually when you will actually use something.
6. On and On Bronze - Maybelline Colour Tattoo. This has been my go to for months and I still feel like I haven't made a dent in it. It's perfect for sort of summer when you just want to leave your house. A swipe of this with mascara and I'm out of the door. It also doubles as a brilliant base for some heavier looks.
7. Audrey Black - Famous by Sue Moxley. (Left hand side.) Expect a review of a few of these products soon, but this eyeshadow is brilliant for darkening out the crease and it has some blueish glitter in it so it doesn't look too black and harsh. Just a thumbs up. Everyone needs 'that colour' for their crease and for me this is it.
8. Punk Purple - ELF. Technically this is a cream liner, but I only ever use it as a shadow. Although I don't wear a huge amount of colour on my eyes, purple is one of the few I find myself falling back on a lot.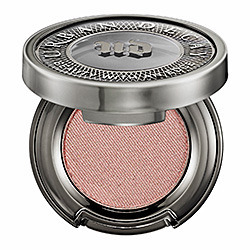 9. Snatch - Urban Decay. Again, a more coloured shadow. Looking back almost all the rest have been neutral. But this is still nicely calm and doesn't make me concious of the amount of colour I have on. You can brighten it up and use it as a blending colour for a bright look or wear it with a brown and make it calm and neutral. All in all, great eyeshadow. I have to buy all the urban decay shadows mentioned individually though. I only have them in palette form and usually I'd rather use a substitute and use something else than fish out a pallette for one shadow.
10. Orange - MAC. This is completely different from all the rest but it's an amazing colour and works as a base for red lipstick to make it slightly more orange toned as well. Just in general amazing! A lot of people have been like yeah it's orange but what shade is it? It's actually called orange. Promise!